Project
Fishery Improvement Projects
Improving fishery management through collaborative efforts
Fishery improvement projects (FIPs) use the power of the private sector to drive changes in a fishery. These projects are a unique example of seafood supply chain members coming together to push for a fishery to be responsibly managed and supported by good science, all in response to market demand for sustainable seafood. The seafood team is currently facilitating a FIP in Maine with the wild blue mussel industry.
Defining FIP characteristics
FIPs bring seafood supply chain actors, scientists, and regulators together to address challenges in fisheries by working towards collectively agreed-upon goals.

To achieve credibility, FIPs must set time-bound goals and make public any work plans, progress made, and project participants.

FIPs are often financially supported by the industry members involved in the projects.
Fishery improvements projects are used around the world as models to engage the supply chain in improving fisheries on the ground. Today, nearly 90% of major retailers and buyers in North America have sustainable seafood policies in place, which they use to determine what kind of seafood to purchase. Over time, large buyers have realized that avoiding a fishery because it does not meet their standards does not, in the end, motivate those fisheries to improve. The "avoided" fisheries typically seek markets elsewhere, rather than working to improve and meet a large buyer's standards.
The fishery improvement project model takes the opposite approach.
When a fishery does not meet typical standards of major buyers or global seafood certification programs, a FIP can be an appropriate tool. FIPs commonly engage a range of stakeholders, including fishermen, seafood suppliers, retailers, foodservice companies, as well as scientists and regulators. The goal is to support the supply chain directly in identifying and advocating for needed improvements. Industry members sit at the table together as formal members of a FIP working group and determine what actions will best help a fishery meet particular standards or buyer policies. Often, the improvements are focused on improving fisheries regulations and/or fisheries science. Every FIP has its own specific goals, which must be made public to ensure credibility in the marketplace.
FisheryProgress.org is a widely-respected, publicly available tracking website for FIPs. As the seafood marketplace increasingly demands sustainable products, FIPs are becoming an increasingly popular tool to improve the sustainability of a fishery.
---
Current FIP
Wild Maine mussels
GMRI staff help coordinate and facilitate FIPs in the Gulf of Maine region. Currently, GMRI is facilitating a FIP for wild blue mussels (Mytilus edulis) in Maine. Blue mussels from Maine are both an important part of the ecosystem and an iconic seafood dish. Mussels are the fifth largest fishery in Maine by volume, and recorded landings of 11 million pounds in 2019. Despite this, regulators and buyers struggle to make decisions about blue mussels due to a lack of data about mussel populations. This puts wild mussels at risk of losing market access because the fishery does not meet standard sustainability criteria. To address this risk, a group of wild mussel industry members formed a FIP in 2017.
Maine mussel FIP working group members
Acadia Aqua Farms
Cape Cod Shellfish and Seafood Co.
Hannaford Supermarkets
Atlantic Aqua Farms USA, Inc.
Maine Shellfish Company
Moosabec Mussels
Euclid Fish Company
Goals of the wild Maine mussel FIP
Establish and maintain data collection about wild blue mussels in Maine.
Advocate for the establishment of harvest control rules that protect the long-term sustainability of the mussel fishery and those whose livelihoods depend on it.
Establish the objectives and components for a statewide mussel fishery management plan with appropriate governance and community engagement to ensure long-term sustainability of the mussel fishery and access for local harvesters.
For more details on the wild Maine mussel FIP, explore the FIP's public profile here.
Research in the field
The mussel FIP working group has been particularly focused on advancing research and data collection, which are a critical foundation for good management strategies. Working group companies have shared data they collect on harvest locations of mussels for analysis by GMRI staff. Additionally, we have conducted research in the field on mussels by taking samples and conducting targeted surveys in the intertidal flats located within key commercial mussel fishing areas.
---
Past FIPs
Jonah Crab (2013-2016)
Jonah crab has long been considered a bycatch of the lobster industry. In 2013, there was increasing market demand for Jonah crab, especially in southern New England, and concerns arose that targeted fishing pressure could compromise the health of the fishery. Before implementing the FIP, no management plan or stock assessment existed for Jonah crab. The Jonah crab FIP working group comprised a broad range of seafood supply chain members and scientists. The FIP successfully secured a fishery management plan for Jonah crab that includes minimum size restrictions, prohibition of berried female harvest, and licensing and trap restrictions. See below for a timeline of key milestones for the Jonah crab FIP.
---
Jonah crab FIP timeline
May 2013
Jonah crab FIP established.
May 2014
Atlantic States Marine Fisheries Commission (ASMFC) unanimously votes to establish a fishery management plan and stock assessment for Jonah crab based on recommendations from the FIP work group.
September 2014
FIP working group members participated in ASMFC public hearings in ME, MA, RI, and CT to share FIP recommendations.
February 2015
ASMFC voted to establish an Advisory Panel and Technical Committee to develop recommendations to the ASMFC.
August 2015
ASMFC approved a Jonah crab fishery management plan.
June 2016
Deadline for all east coast states to implement measures spelled out in the management plan.
---
Jonah crab FIP working group members
Chair: Ray Swenton, Bristol Seafood
David Borden, Atlantic Offshore Lobstermen's Association
Josanna Busby, Delhaize America
Lanny Dellinger, Rhode Island Lobstermen's Association
Bill Gerencer, M.F. Foley Company
Bryan Holden, Cape Seafood LLC
Derek Perry, Massachusetts Division of Marine Fisheries
David Spencer, F/V Nathaniel Lee
Steve Train, Atlantic States Marine Fisheries Commission
Rick Wahle, University of Maine
Jon Williams, The Atlantic Red Crab Company
Read the FIP Participation Agreement signed by the above FIP Work Group members here.
Information about the pre-assessment work that helped the FIP work group members develop the FIP plan can be found in this report, and the the index scoring sheet can be viewed here.
Explore the recommendations sent to the Atlantic States Marine Fisheries Commission (ASMFC) by downloading the PDF below.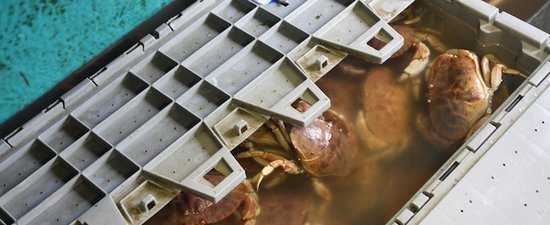 Jonah Crab Fishery: A Briefing for the Atlantic States Marine Fisheries Commission
This communication to the Atlantic States Marine Fisheries Commission (ASMFC) includes recommendations the FIP Work Group has developed for the management agency's consideration, for presentation to the ASMFC on May 14, 2014.