Project
In the Path of Totality: Eclipse 2024!
Celebrating the wonder and science of the 2024 total solar eclipse.
The afternoon of April 8, 2024, at the northern edge of GMRI's Learning Ecosystems Northeast territory, for just a few minutes the skies will darken as though it were dusk or dawn, the temperature will drop, and nighttime creatures will come alert. For the first time since 1963, and not again until 2044, the northeast will be in the path of totality of a solar eclipse and the GMRI/LENE team is excited to help educators, youth, and communities celebrate — whether you are on or off the path of totality. By providing an array of resources and learning experiences for use in classrooms, libraries, and out-of-school programs, we will highlight the unique science of solar eclipses alongside their beauty and wonder. Photo credit (left): Mantarays Ningaloo, Australia/MIT-NASA Eclipse Expedition
Project Goals:
Champion engagement with this once-in-a-lifetime event by highlighting both the unique science and the wonder of solar eclipses.

Provide resources and professional development that support flexible implementation across a variety of learning contexts and scenarios.

Focus learning experiences on the time before and after the eclipse, leaving the day of the event open for sheer enjoyment.

Demonstrate the role of community science in documenting phenomena and contributing to the scientific efforts.

Share and emphasize critical equipment and procedures to keep everyone safe during the eclipse.
A total solar eclipse will darken a swath of North America as the Moon blocks the light of the Sun for a few minutes on April 8, 2024. The Moon's shadow will race across the Earth at 1950 kph, with an umbral path 275 km wide. In addition to casting a breathtaking, passing shadow over the heads of millions of people, this total solar eclipse gives scientists a unique opportunity to study the Sun, Earth, and their interactions.
As a NASA partner, GMRI and Learning Ecosystems Northeast are excited to join the effort to make sure educators and youth both on and off the path of totality have the chance to engage with this exciting event.
The Learning Ecosystems Northeast team has curated a collection of resources that reinforce our commitment to connecting in- and out-of-school learning. Activities suitable for classrooms, libraries, after-school programs, camps and 4-H programs, and numerous other settings will allow communities to engage youth in learning about and modeling eclipses. Community science investigations support understanding the changes during an eclipse as temperatures drop and environmental sounds change. We have attended particularly to non-visual ways to experience an eclipse, given the possibility of cloud cover or precipitation. We have deliberately chosen learning experiences that can be done before and after the day of the eclipse, leaving that day completely open for sheer enjoyment wherever educators and youth find themselves.
Sign up for eclipse 2024 updates!
Does your community have eclipse viewing locations planned?
We are looking to connect with existing plans and celebrate educators in those areas with resources and professional learning. Contact our team below for more info!
Upcoming Events and Resources
Over the coming months, our network of educators and science centers will be submitting additional favorite resources to the collection and we will soon be posting details about numerous professional learning opportunities for educators.
Check back often for updates!
Virtual events and Educator Information Sessions
Additional Upcoming Events and Resources
Activity Walk-Throughs: In late fall and early winter we'll launch a series of short virtual sessions to walk through the curated set of resources to be sure you feel prepared to deliver your favorites.
CLE Meeting Conversations: The Connected Learning Ecosystems across the state will be hosting local conversations, facilitated by GMRI staff, to think about and design local celebrations.
Our partners at Maine State Library are developing and hosting numerous opportunities for libraries to prepare to celebrate the eclipse. You can find those through the MSL web site but we'll also post them here as they get scheduled.
Materials Order Deadline! Several of our "top picks" of activities for the eclipse include small pieces of equipment. GMRI will be supplying that equipment free of charge for a small number of locations. Stay tuned for forms and deadline for placing orders.
Post-Eclipse Sharing at Libraries: Our library partners are excited to gather communities together to share stories of eclipse experiences. As those locations and dates become available, we'll post them here.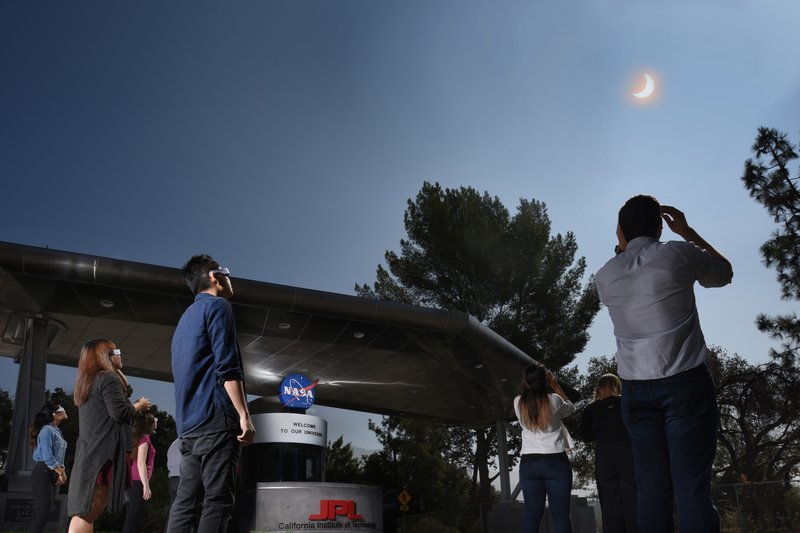 Safety First
Safety is NASA's #1 priority during eclipse celebrations. Except during the brief total phase of a total solar eclipse, when the Moon completely blocks the Sun's bright face, it is not safe to look directly at the Sun without specialized eye protection for solar viewing. Viewing any part of the bright Sun through a camera lens, binoculars, or a telescope without a special-purpose solar filter secured over the front of the optics will instantly cause severe eye injury.
Here are some important safety guidelines to follow during a total solar eclipse.
View the Sun through eclipse glasses or a handheld solar viewer during the partial eclipse phases before and after totality.
You can view the eclipse directly without proper eye protection only when the Moon completely obscures the Sun's bright face – during the brief and spectacular period known as totality. (You'll know it's safe when you can no longer see any part of the Sun through eclipse glasses or a solar viewer.)
As soon as you see even a little bit of the bright Sun reappear after totality, immediately put your eclipse glasses back on or use a handheld solar viewer to look at the Sun.