2022 Sustainable Seafood Impact Report
Announcements | Feb 23, 2023
We want to keep you updated on our sustainable seafood team's progress, so we've developed a report showcasing some of their biggest achievements from 2022.
Every year, our sustainable seafood team works to boost the capacity of restaurants, retailers, institutions, and processors to serve, sell, share and eat regional seafood. Together with their regional network, the team continues to strengthen the ecological and economic sustainability of the Gulf of Maine seafood industry.
Here are some highlights from 2022.
Sea to School
Through a generous USDA grant awarded in 2020, our seafood team wrapped up a years long Sea to School collaborative effort to connect New England's K-12 schools with local seafood. Serving local seafood is a win-win-win.
It's a win for health because local seafood is a wonderful lean protein and is rich in vitamins, minerals, and omega-3 fatty acids, all of which are important for the growth and development of kids.
It's a win for community and economy because choosing local seafood supports fishermen, coastal communities, and our regional seafood economy.
It's a win for the environment because local seafood is responsibly harvested and a climate-friendly protein option.
Local Seafood Served
11,000 pounds
All that seafood was offered to 40,000 students from seven school districts across New England.
Community Benefits
$55k
The local seafood economy saw nearly $60,000 in value added from efforts to bring local seafood to K-12 schools.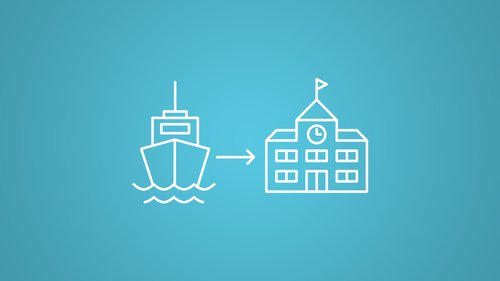 More Local Fish
80%
Participating schools saw a massive increase in the local seafood they served in their cafeterias as a result of meeting their commitments.
Kids Love Fish
76%
We hosted taste testing events at the schools working to serve more local seafood, and over three-quarters of the students surveyed loved it!
In all but one of the districts, more than half of students are eligible for free and reduced lunch. Also, three districts have substantial racial diversity (~50% students of color) in their student populations and another three districts are significantly more racially diverse than their states as a whole.
Local Seafood Student Ambassadors
We worked with undergraduate students from area colleges and universities who spent the 2021–2022 school year acting as seafood ambassadors for their student bodies. This talented group accomplished a significant scope of work.
Teams of two student ambassadors on each campus collaborated with their dining services to design marketing tools to encourage their peers to choose local seafood in their dining halls. Student preferences drive what is purchased by dining services, so engaging with students to create change amongst their peers can help push the needle towards more local seafood served on campus.
Student Ambassadors
10
Ambassadors hailed from five campus partners in our Gulf of Maine Responsibly Harvested program: Boston College, Bowdoin, SMCC, UMaine at Presque Isle, and UNH.
More Local Seafood
60%
As a result of the ambassadors efforts, three campuses significantly increased their purchasing of local seafood by 60%.
Greater Understanding
1,200
Our ambassadors surveyed 1,200 fellow students to identify the best ways to get seafood into their school cafeterias.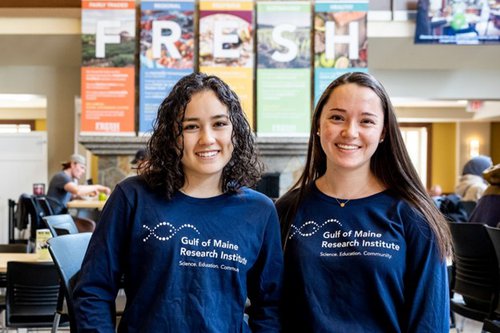 Increased Awareness
>50%
In end of year surveys, ambassadors found that on every campus, at least 50% of students gained greater awareness of local seafood in the dining hall through the events and promotions.
Supporting Immigrant Communities
Our sustainable seafood team, in partnership with Good Shepherd Food Bank and Hannaford Supermarkets, hosted a series of focus groups to understand local immigrant seafood access and consumption habits. Maine and the northeast are home to strong immigrant communities with ties to regions all over the world, and many local immigrants come from countries with strong seafood cultures. Our three organizations partnered because of our shared interest in ensuring that local seafood is accessible and available to the broadest diversity of consumers possible.
Focus group participants shared information about a range of topics, including their needs and interests in accessing seafood, where they typically shop for seafood, what kind of information they have about local seafood, what kind of seafood they typically eat, and other habits. Based on what we heard, we identified a need to share more information about what types of seafood are available from the Gulf of Maine, and created a local seafood guide translated in five different languages spoken in our local communities.
Immigrant Perspectives
39
We saw almost 40 participants across five different focus group sessions.
Countries Represented
13
Immigrants from 13 countries throughout Africa, the Middle East, Asia, and South America all shared their interests around eating seafood, including the barriers to doing so.
Guide Languages
5
We translated our Gulf of Maine Seafood Guide into Arabic, Chinese, French, Portuguese, and Spanish.
Meeting a Need
90%
90% of participants responded that they would like to eat more seafood than they do now — an opportunity for the seafood industry to proactively reach out to local immigrant communities.
Building Demand for Bluefin Tuna
The U.S. Atlantic bluefin tuna (ABFT) fishery is strictly regulated, and provides a livelihood for hundreds of U.S. commercial fishermen. Unfortunately, fishermen and tuna suppliers struggle to sell this highly regarded fish in domestic markets in part due to negative perceptions about its sustainability.
We worked hard in 2022 to build demand for bluefin tuna by hosting workshops for local restaurants and retailers. Through the workshops, we achieved the goal of increasing understanding about the responsible practices of US bluefin fishermen and opportunities to purchase local bluefin tuna.
Workshop Participants
55
We convened and supported 55 chefs, restaurant staff, retailers, distributors and fishermen to build demand for local bluefin tuna.
More Likely to Buy Local Bluefin
98%
After the workshops, 98% of participants reported they are 'highly' or 'somewhat' likely to buy more local bluefin tuna.
Additional Accomplishments
Access to Ice
It's tough for New England finfish to compete in the global seafood market given the much larger regions around the world catching the same types of fish. For example, the Norway-Russia quota for cod in the Barents Sea is 566,784 metric tons. By comparison, the entire cod quota available for New England commercial vessels (both Gulf of Maine and Georges Bank) is 674 metric tons.
674.
Granted, cod is depleted, and as recovery efforts continue, the name of the game is avoiding cod. In contrast, fishermen caught ~10,000 metric tons of haddock in our region. Even for a species with a healthy, more abundant population like haddock, we are still a small region in the larger global seafood marketplace. So, how can New England finfish compete? Quality over quantity
"Our best opportunity for a strong seafood economy in our region is to compete on quality."

Kyle Foley

Sustainable Seafood Director

Kyle Foley

Sustainable Seafood Director
To that end, Kyle and her team are collaborating with the finfish industry to improve seafood quality handling practices and to identify opportunities for fishermen and the seafood industry to capture the highest value per pound. Her team has helped procure valuable ice machines in Marshfield, MA, Chatham, MA, and Portland, ME. Access to ice is the first step in making sure fishermen have what they need to preserve quality on board.
The seafood team is also working with fishermen and processors, the Maine Coast Fishermen's Association, and the Cape Cod Commercial Fishermen's Alliance to identify other opportunities to improve quality and value throughout the supply chain.
New Culinary Partners
We added four new Culinary Partners in 2022, bringing our total number of partners to 35:
Bissell Brothers
Helm Oyster Bar & Bistro
Stone Cove Catering
Sur Lie
We are proud to partner with these area restaurants who have committed to promoting responsibly harvested seafood from fishermen and purveyors in the Gulf of Maine by always having Gulf of Maine seafood on their menus, educating their staff on seafood sustainability, and continually improving the sustainability of their operations.
Supporting Hannaford Supermarkets
Through their Local seafood program, Hannaford is dedicated to showcasing seafood from the Gulf of Maine, consistently purchasing from 20 local seafood suppliers.
100% of the seafood that enters their stores is traceable to the original fishery or farm and vetted against Hannaford's rigorous sustainability criteria by GMRI staff.
Mussel Fishery Improvement Project (FIP)
A fishery improvement project (FIP) uses the power of the private sector to address challenges in a fishery, and major buyers across North America look to FIPs as an opportunity to source seafood from a fishery that is actively working to improve. In summer 2022, we completed facilitating a multi-year fishery improvement project focused on wild-caught blue mussels in Maine.
Our working group included the following member companies and their representatives: Acadia Aqua Farms, Cape Cod Shellfish, Euclid Fish Company, Hannaford Supermarkets, Atlantic Aqua Farms, Maine Shellfish Company, and Moosabec Mussels.
The group focused on gathering and improving the data available on mussels in Maine. The industry-led working group successfully requested and moved mandatory harvester reporting for the mussel fishery through the regulatory process, which was implemented starting in January 2022. This will provide important harvest location data, as well as data on effort in the fishery.
Throughout the project, we also conducted sampling research in the intertidal zone. A total of four sampling trips occurred in commercially important areas. Sampling efforts recorded length and weight of adult mussels and seed mussels from 12 sampling sites, resulting in information collected from over 3,200 individual mussels.
Meet the Sustainable Seafood Team