For Rural Teachers, Nothing New About Physical Distance
Perspectives | Apr 30, 2020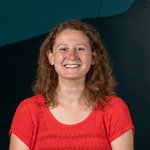 by Molly Auclair
Connected Learning Ecosystem Specialist
For nearly 20 years, our education team has helped Maine teachers bring authentic science experiences to their classrooms.
This week, Teacher Professional Development Coordinator Molly Auclair joins us to share how STEM (science, technology, engineering, and math) teachers are coming together to support each other remotely — both before and during the COVID-19 outbreak.
While the challenges of physical distancing are new for many of us, Maine teachers have been practicing for years.In rural parts of the state, teachers often feel isolated. Many of the individuals I work with are the only STEM teachers for their grade level, and some are even the only STEM teacher at their school.
The physical distance and feelings of isolation can make it difficult for these teachers to connect with colleagues within their subject areas — but that doesn't keep them from innovating and exploring STEM concepts with students in new ways.
In 2016, we launched our Regional Teacher Community effort to connect these teachers, with the following goals:
Convene teachers to learn from and with one another
Build more and deeper authentic science investigations for their students
Cultivate local ownership and leadership of these networks
Build a long-term support structure to make lasting impacts in STEM education.
We connect and engage these teacher communities with an array of meetings, trainings, and online resources. Every community has a lead teacher, who provides local, sustained guidance to other teachers in that region.
These new relationships help teachers support each other. We provide a forum for these groups to come together, but the focus is on teachers learning from teachers. Regional Teacher Communities provide a place for teachers to share a wide variety of professional development experiences and generational teaching knowledge.
"The Regional Teacher Community provides a place for me to share my ideas with peers to get not only compliments or encouragement, but also constructive criticism and suggestions for resources or improvements. This group has provided me with training and support to be a leader not only at my school, but also with fellow teachers in my area.
Since launching our first Regional Teacher Community in Western Maine, with the help of a fearless teacher-leader who still leads this group today, we have grown the effort to five communities across the state: Western Maine, Washington County, Hancock County, Midcoast Maine, and Aroostook County. These communities have served over 80 teachers across 39 districts since 2016.
Because these communities were always designed to accommodate connecting across isolated regions, our current COVID-19 lockdown has our teacher groups operating in mainly the same ways we always have.
We continue to hold our regularly scheduled meetings, teachers are doing their reflections in their online journals, they are sharing resources in meetings and online, and we have added a weekly standing meeting for teachers from across the state to join and ask questions, brainstorm — really whatever they need.
"The fact that our support group already existed has been really helpful. Teachers, like everyone else, are isolated and since we already have this group with online support protocols it has been an additional and greatly appreciated source of support.

Ann Luginbuhl

Charlotte Elementary School Teacher
As teachers continue to navigate this incredibly difficult and unprecedented task of distance learning, we are committed to supporting them in any way we can. Regional Teacher Communities are one constant that these teachers do not have to worry about losing in this time of uncertainty. I hope that brings some sense of calm to a very chaotic time.