Staff Feature: Cooking Seafood at Home with Kyle Foley
Perspectives | Jul 27, 2020
by Kyle Foley
Sustainable Seafood Senior Program Manager
Sustainable Seafood Program Manager Kyle Foley joins us to share one of her favorite home-cooked seafood recipes — a flaky white hake dish with tomatoes and olives. As COVID-19 has disrupted our local seafood supply chain (including many of our favorite restaurants), Kyle explains how simple it can be to give a boost to our local seafood economy by making restaurant-quality meals at home.
If you're like me, you probably have a lot of cookbooks. I have an entire bookshelf full at home, and while I enjoy learning from expert chefs, the thing I love most is paging through them and dreaming of tasty dishes. I have to admit, I don't actually cook recipes out of my cookbooks very often — in fact, I'm currently using a stack of them as a stand for my computer while I work from home.
However, I pull a couple of favorites off the shelf again and again. One such volume is my dog-eared copy of Mark Bittman's How to Cook Everything. One of the things I appreciate most about this cookbook is its comprehensive section dedicated to cooking seafood. The recipes are perfect for anyone looking for simple, easy-to-follow methods for whipping up delicious dinners using a wide range of fish, shellfish, and sea vegetables.
Bittman's style offers the most basic cooking instructions (e.g., how to bake a thick white fillet) and includes options and suggestions for home cooks to spice it up a bit. This week, I was inspired to cook up a version of his tomato-olive white fish recipe using white hake, a close (and equally delectable) relative of cod. It's one of my favorite simple preparations for any of the beautiful flaky white fish swimming around in the Gulf of Maine.
Sharing this recipe also allows me an opportunity to connect a personal hobby with my professional life. Our Sustainable Seafood team at GMRI works with industry leaders across the supply chain to build market demand and empower consumers to find and buy Gulf of Maine seafood. We work with retailers, restaurants, seafood dealers, fishermen, and other stakeholders — all committed to shared goals through our program.
The seafood industry has been particularly hard-hit by the ongoing global pandemic, but cooking seafood at home represents an opportunity to support them.
Of the $100 billion dollars that Americans spend on seafood annually, 70% of that seafood is consumed outside the home — according to a 2017 report from the National Oceanic and Atmospheric Administration. With most of us staying home, this represents a major loss for communities that depend on revenue from catching and selling fish, especially small businesses and members of the seafood supply chain.
It's easier to cook premium-quality seafood recipes in the comfort of our own kitchens than you might think. Whether cooking from a recipe or improvising in your kitchen, you can help support our coastal communities and the local seafood industry during these challenging times by purchasing and preparing more local seafood.
Tomato-Olive White Hake
Ingredients
Serves 4
2 pounds hake fillets (or any other flaky, white fillet)
1 tbsp of Olive oil
Salt and pepper
1-2 small tomatoes, chopped
Handful of pitted Kalamata olives, chopped (about ¼ or ½ cup)
1 garlic clove, minced
Handful of fresh basil leaves, chopped finely (about 1 tbsp)
1 tsp Balsamic vinegar
1 lemon, quartered
Preparation
Preheat the oven to 400°.
Lightly grease a baking dish and lay the fillets on it. Brush (or use your hands, as I do) some olive oil onto the fillets. Sprinkle with salt and pepper.
Put the baking dish into the oven. A good general rule for cooking fish is that it needs about 8-10 minutes per inch of thickness (at the thickest part of the fillet). You're going to add the tomato-olive mixture about halfway through cooking, so set a timer accordingly (4-5 minutes).
Combine tomatoes, olives, garlic, and basil in a bowl, and drizzle with 1 tbsp olive oil and 1 tsp balsamic vinegar. Feel free to adjust the ingredient ratios depending on what you love most. You may not need the whole tomato – it's all personal preference (Bittman only calls for 1/2 cup which is not even close to enough for me). You can also swap out basil for parsley or another favorite herb.
Halfway through cooking, cover the fish with the tomato-olive mixture.
Most fillets are done when they offer no resistance to a knife and when they've become opaque. When in doubt, just use a fork or knife to peek into a thick part of the fillet and see if it's still translucent and needs some time. Remember the fish will continue cooking once you take it out of the oven, while it's still sitting in the pan.
Add a squeeze of lemon, serve with your favorite side dishes, and enjoy!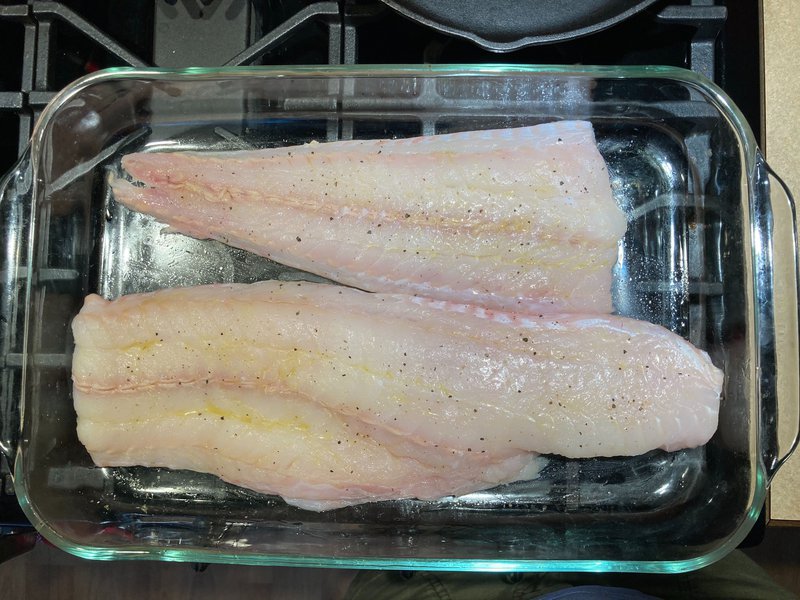 The Gulf of Maine is home to so many different fish that work in a variety of recipes. For example, this recipe is easily interchangeable with whatever local white flaky fish happens to be available where you shop – haddock, pollock, or even some of the more delicate fillets like Acadian redfish or flounder.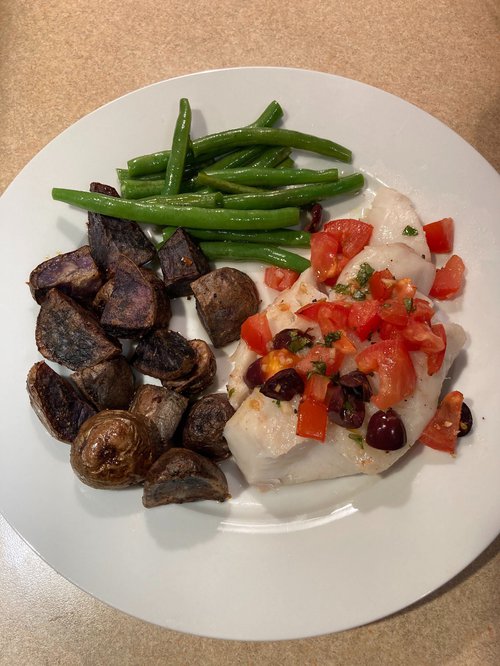 You can find a variety of these fish at supermarkets such as Hannaford, as well as local fish markets in your area. Here in Portland, where I live, a few GMRI partners selling Gulf of Maine Responsibly Harvested fish are P.J. Merrill Seafood in Woodfords Corner, Free Range Fish & Lobster on Commercial Street, and Gulf of Maine Sashimi online.
The seafood industry in and around the Gulf of Maine has provided our region with delicious seafood for generations. As the industry tries to adapt and cope with the challenges caused by the global pandemic, I encourage you to help lift them up by purchasing some locally sourced, responsibly harvested seafood and picking a recipe to try at home. Who knows? Maybe it will be your new favorite dish!
Looking for more inspiration?
We've compiled some simple recipes that you can cook at home to help support our local seafood industry during this turbulent time.